Secret Saturday Festival in Pictures
posted by april5k @ 1:01 PM
This was probably one of the most fun weekends EVER. JD is mayor of good times. (I think Airon might be chief of police of good times for his stylish bouncing of underaged drinkers.) I tried to get pictures of everyone but missed out on one or two each day due to my camera being in a location other than in my hand. But everyone was above and beyond good and at $5 for a two day pass probably provided the biggest bang for your buck of all time. So here it goes (click on the pictures to go see the rest of the sets)
DAY ONE
CO-PILOT - I forgot to grab my camera out of Pope Jon's truck before he left so unfortunately I didn't get any pictures of these guys but their set can be summed up in two words: FUCKING EPIC.
THE GOLD SOUNDS - I had heard these guys at JD's the night before and was ready to be blown away. I was not disappointed. Guitarist, Chris, not only played with his teeth and behind his head, but smashed his guitar.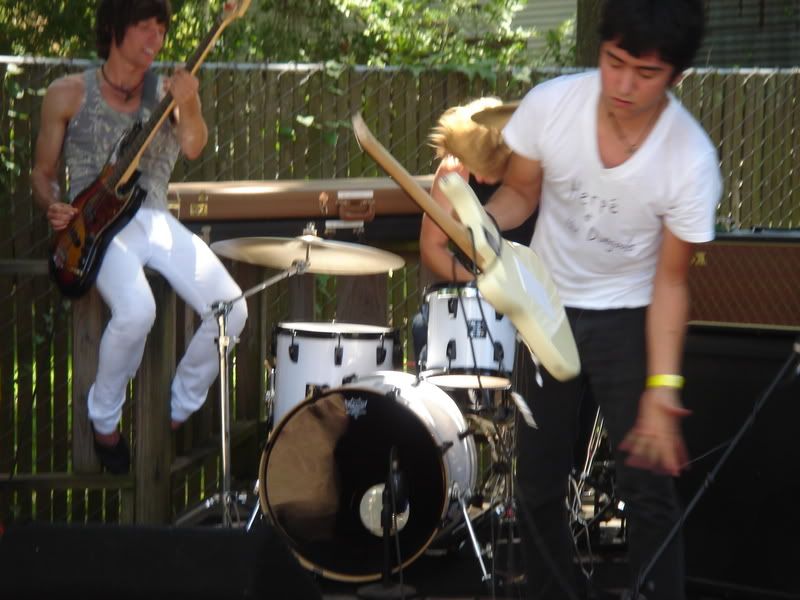 LENNY BRISCOE – Though I see JD and Stacey more than I see my parents, I have yet to see a full Lenny Briscoe set and I was very happy when they played Saturday. Here's a video of them playing the Jessica Six song "Vendors of Greater Things"
THE TONTONS – Though I've technically played a show with The Tontons I had yet to actually see them in action. After Saturday's set I can see how it was smooth sailing for them to win best new act. Nicely done.
LAZY HORSE – Oh Lazy Horse, how do you always guarantee a good time? Even down by one member this weekend you guys are still the best.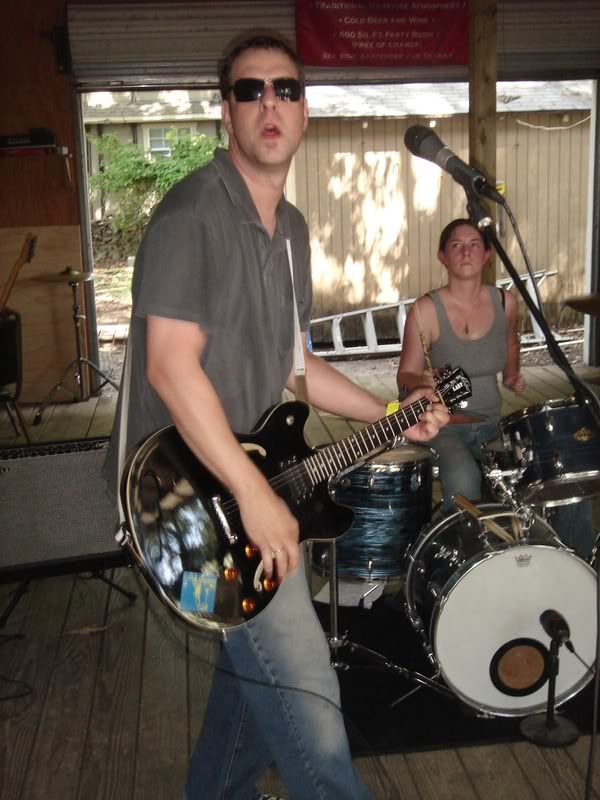 HEARTS OF ANIMALS – It was also my first time seeing Hearts of Animals and I was not disappointed. Very sweet sounds for a very sweet afternoon.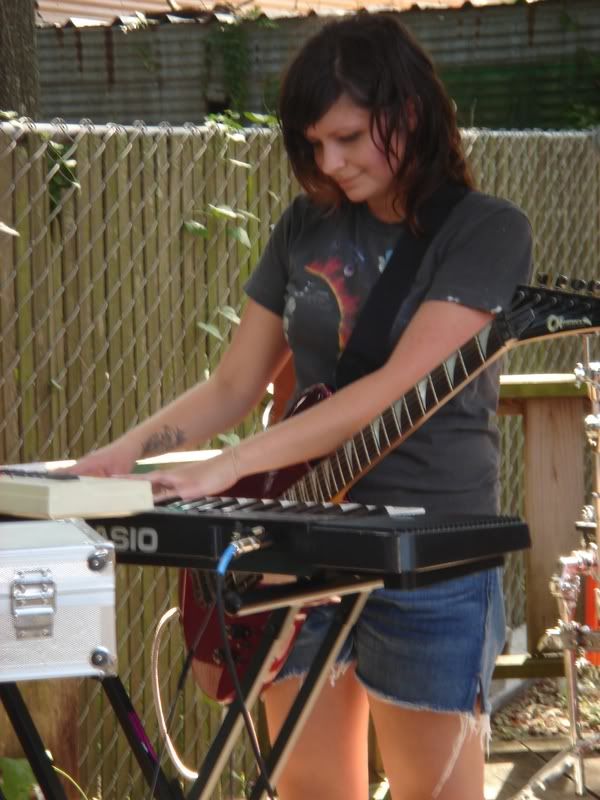 LIKE YEAH – Tess is a SSS staple and continued the vibe of sweetness into the late afternoon.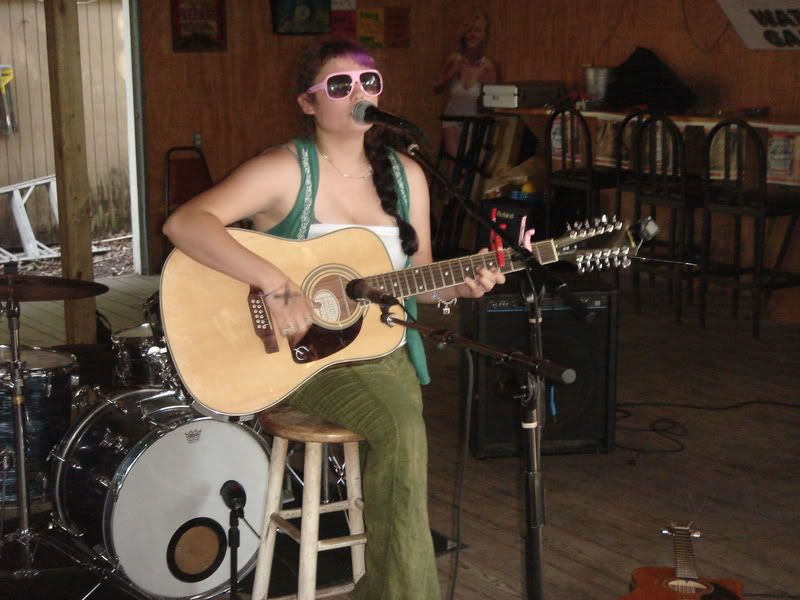 SOMETHING FIERCE – Duh, this is always good, do I have to tell you that? The addition of a surprise dancer kicked this afternoon back onto the high intensity party wagon.
PERSEPH 1 – I had been meaning to catch her set for a while now. I'll admit I'm not the hugest hip-hop fan, but I heard her tracks on myspace and I was down. This was the perfect set for the early evening.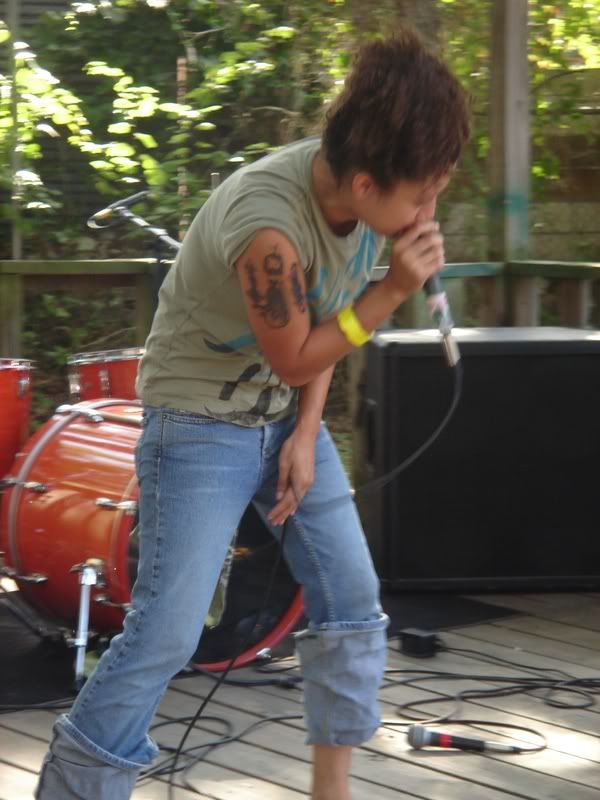 BAREFOOT AND THE BEAR – I saw him just as he was ending his set that apparently was a private performance for Neil from Lazy Horse. I'm sorry I missed you.
UME – This is another no-brainer, do I need to tell you that Ume was good?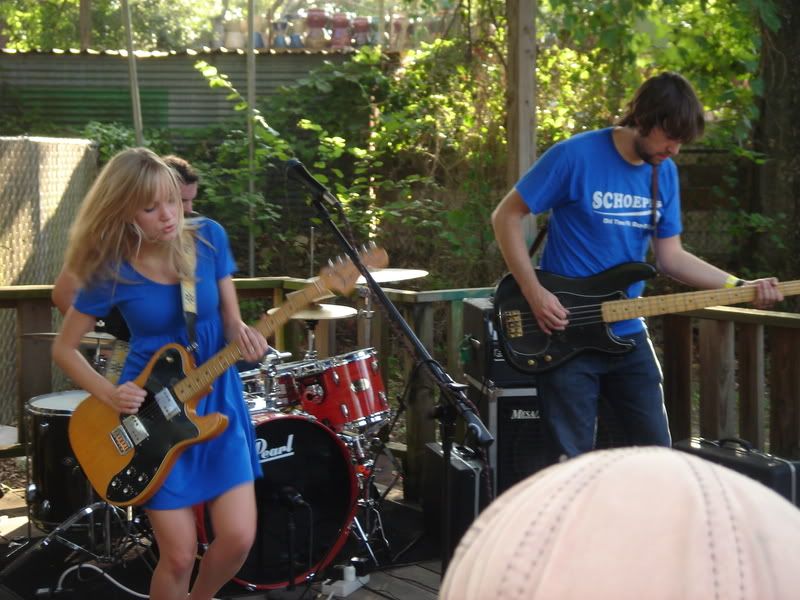 GUITARS – From the stage I missed out on some of the action behind the scenes. Apparently, the former drummer for ¡ALARMA!, up to drunken jackassery, was stealing tambourines, etc, which was quickly ended by our hero Neil from Lazy Horse. Nice bouncing, my friend.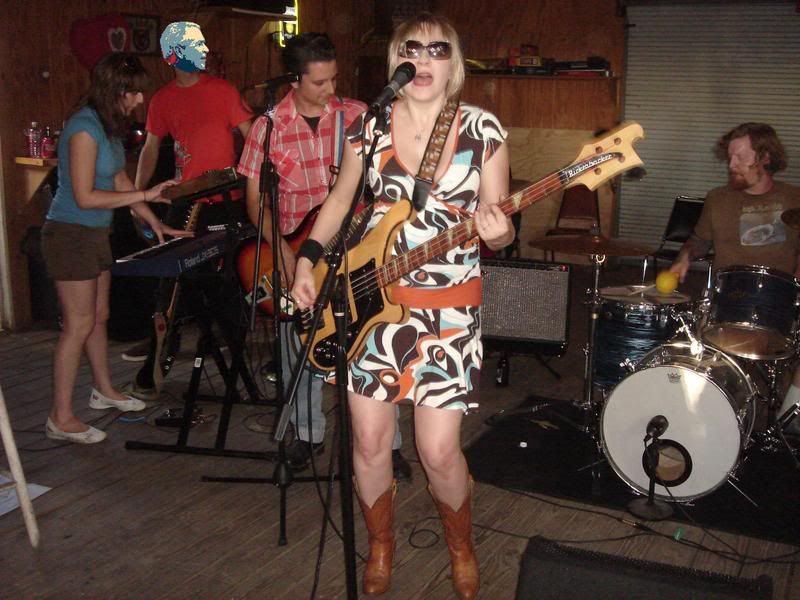 YOU (GENIOUS) – Very entertaining hip-hop, I'm sad that I didn't get to see his full set but I loved what I saw but then I believe I had to make a detour to India (code wordz).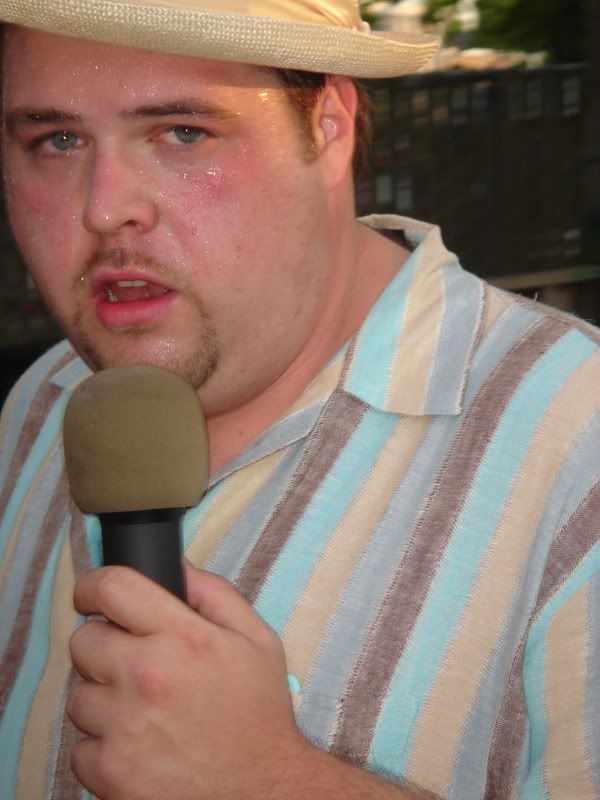 LISTEN LISTEN – As the sun came down, Listen Listen brought us all to a mellower state of mind for a post-cop-calling rock festival.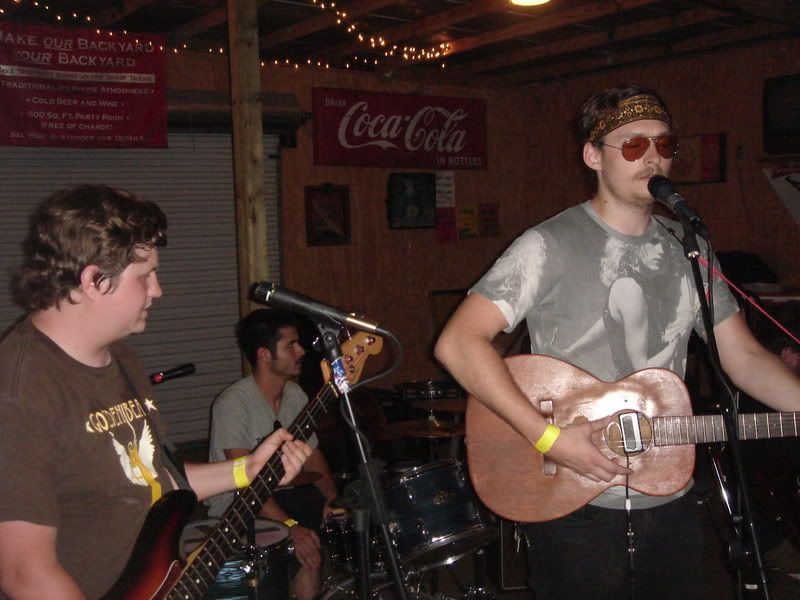 ELAINE GREER – I am always so conflicted whenever I see or hear Elaine play. There are two voices inside my head one that is just pure jealousy and envy, I always opt to listen to the other voice which tells me that this is the most wonderful thing I could possibly be hearing at that moment.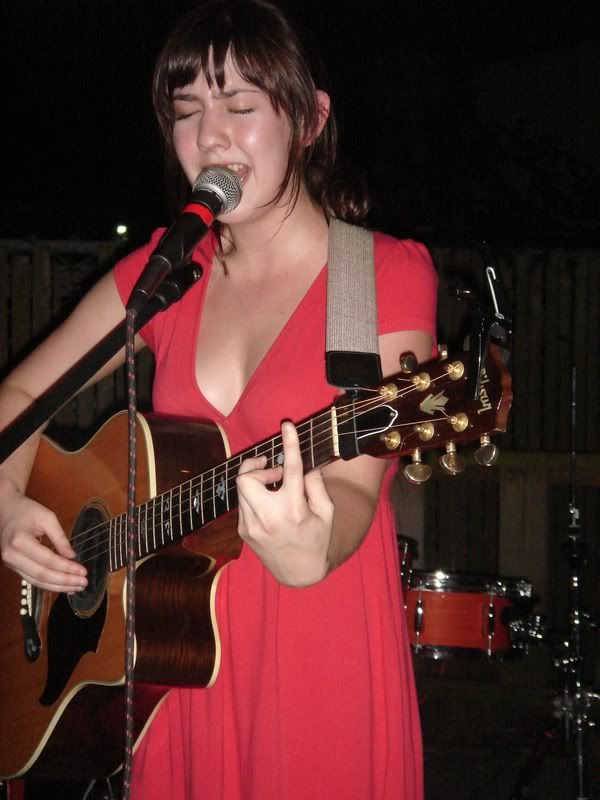 SEW WHAT – Another familiar face for SSS regulars, Rachel is always bringing more and more to her performances and this evening it was with the addition of Cory Durden, the best one man band I know!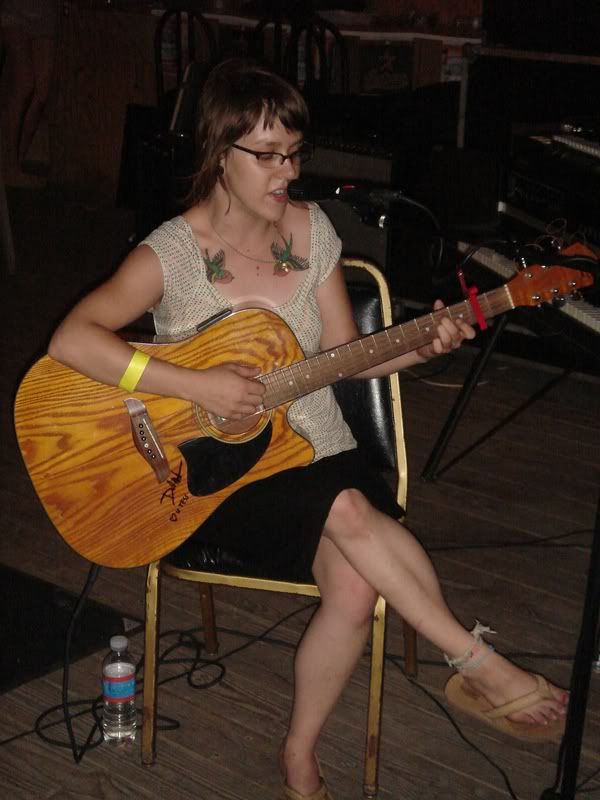 AIRON PAUL DUGAS – Taking a break from his doorman duties, Airon closes down Saturday night with a set that literally brought me to tears. This man has a voice like southern angels. If you didn't stick around for his set, you blew it.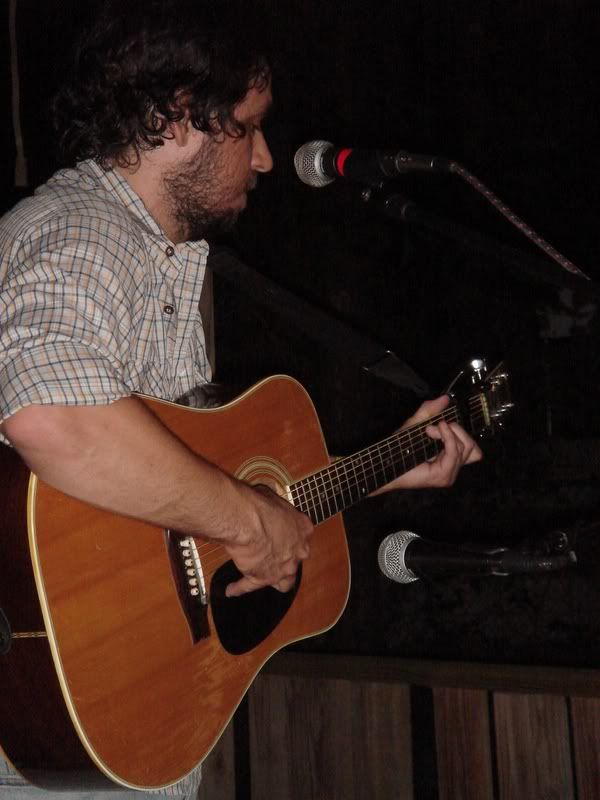 Here are some shots of some of the various people hanging around, this one pretty much sums up the whole weekend: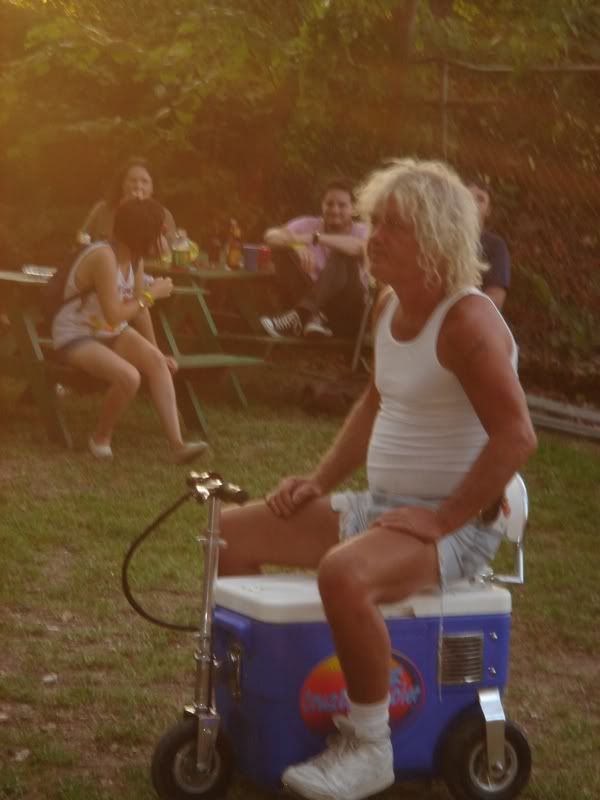 DAY TWO
DUNNOCK'S ILL ADVISORY – I got to the Shady just as he was starting and had a torta to tend to during his set, I wish I had seen more but I would like to know if he played a song that I think is called "Hate".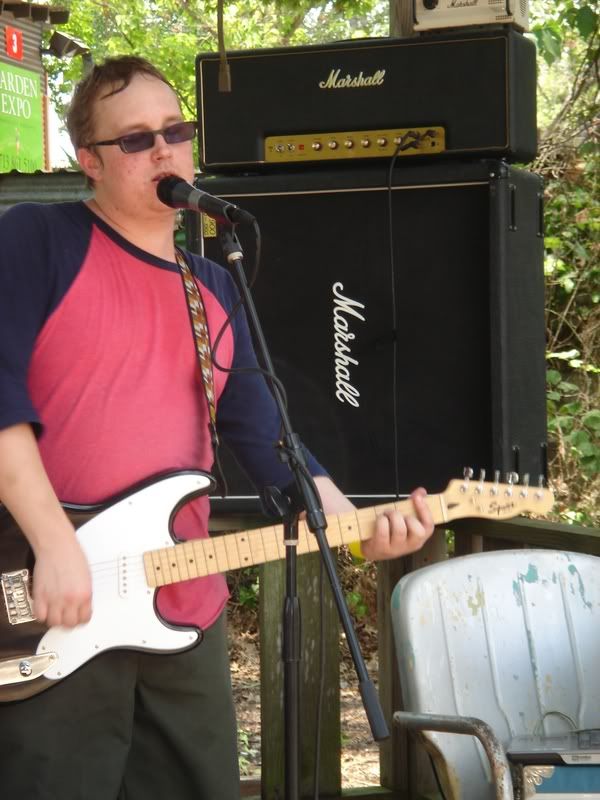 PARIS FALLS – Here is a challenge for Paris Falls: be more wonderful. Seriously elegant and beautiful. Stellar.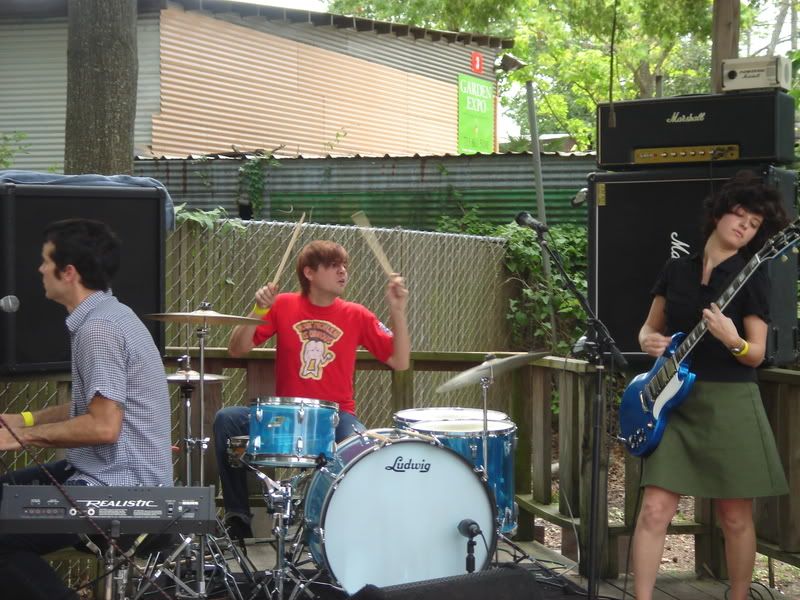 EVAK 1 – I only caught the very beginning of their set, I had another trip to India to make, but fortunately I did get these shots.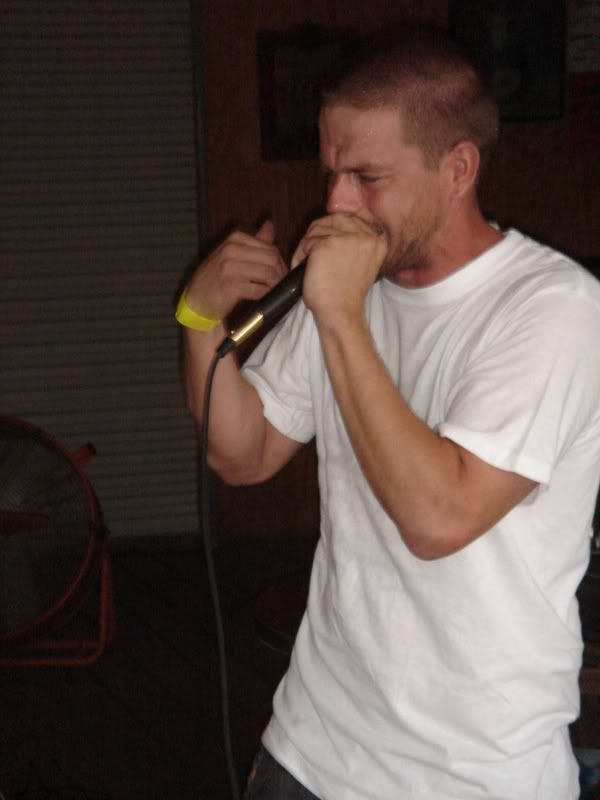 GIANT PRINCESS – Yet another one of those no-brainers, these guys are never going to disappoint you.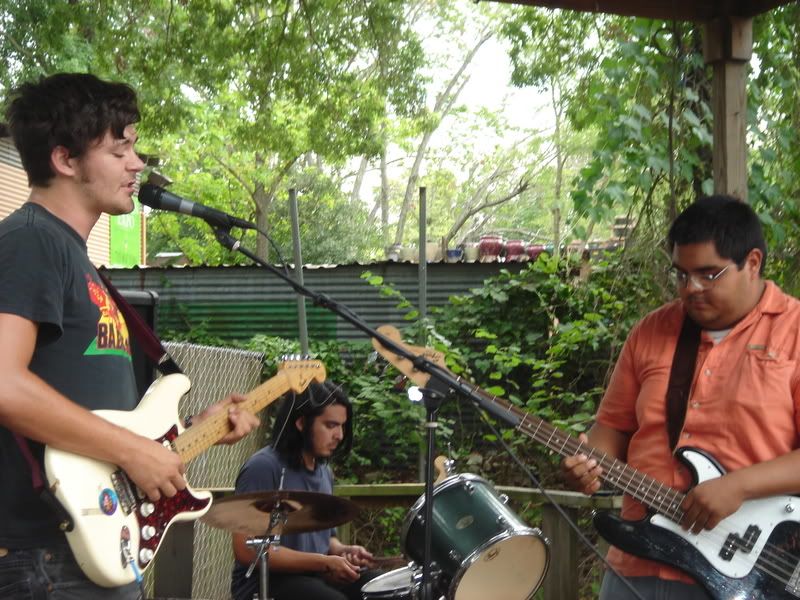 NEWS ON THE MARCH – Much hyped and much worthy. Their entire set was a big fuck-you to Lomax's Press article about Houston sucking.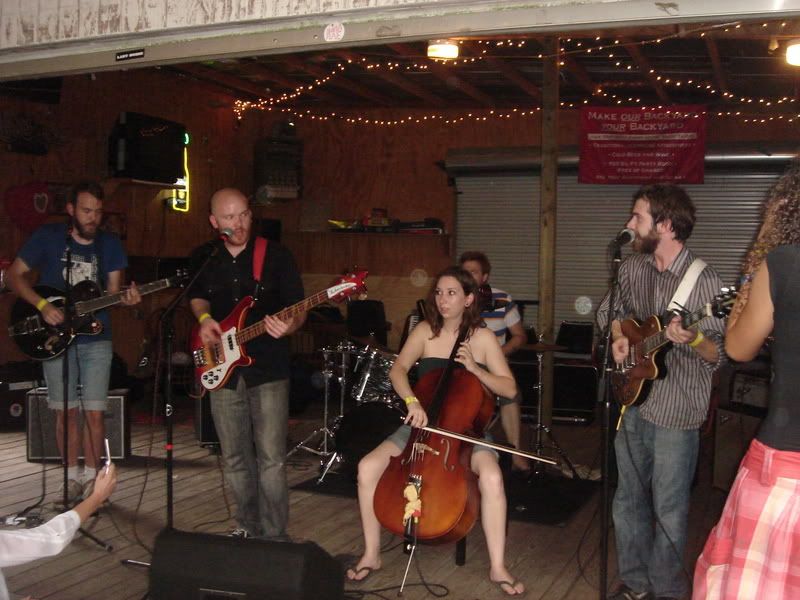 NOSAPRISE – Another very entertaining Hip-Hop set. He opened with my favorite song of his and delivered hit after hit.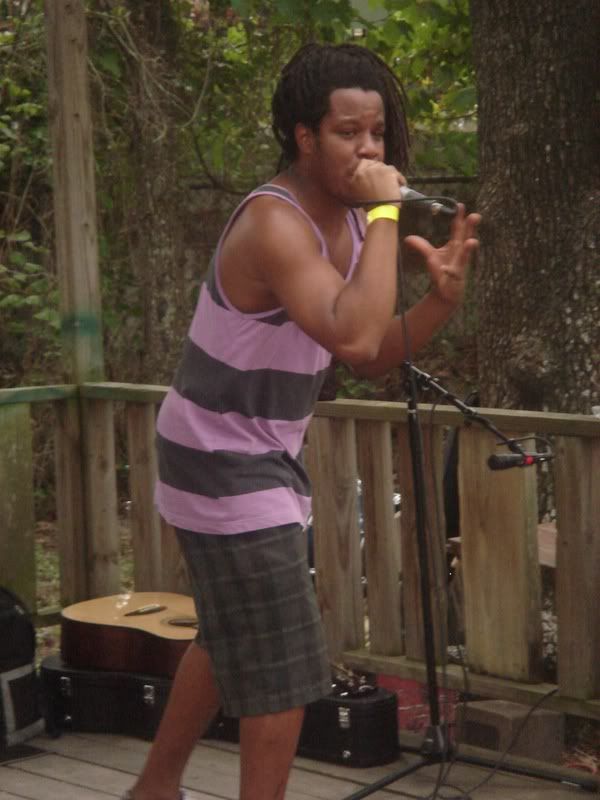 THE MCKENZIES – I'll keep it short, this was hands down my favorite performance of the weekend. Amazing. Wonderful. Fantastic.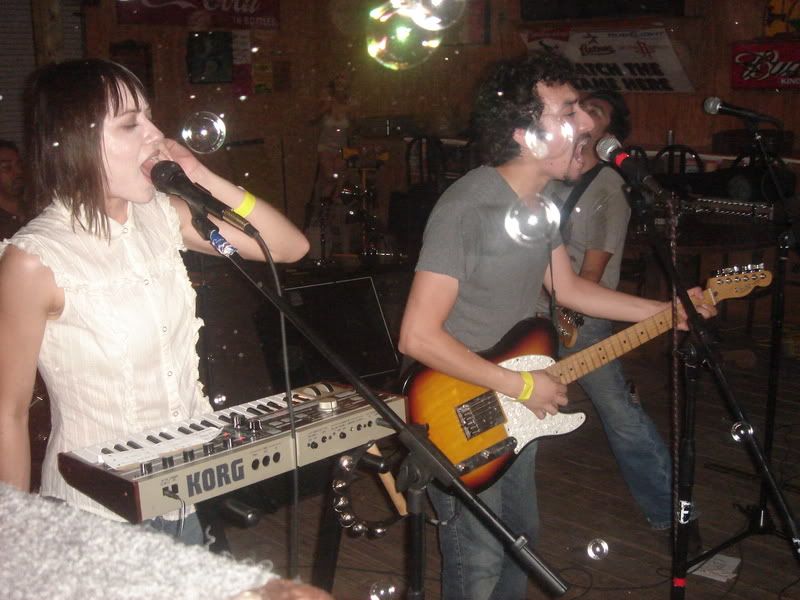 AWAKE – I believe I'm fated to never see Awake in their natural state. I played a show with them once and they brought the noise, this time they brought the acoustic. And it was great. Droney and intense and oddly wonderful in the open-air setting.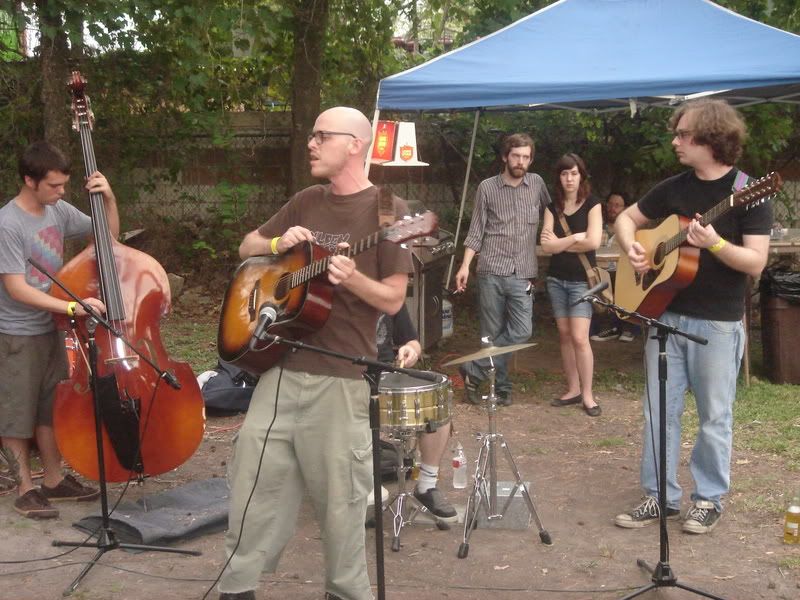 THE MONOCLES – Hey I heard 15 people asked for a copy of their unmastered album. One of them was Gar Wood.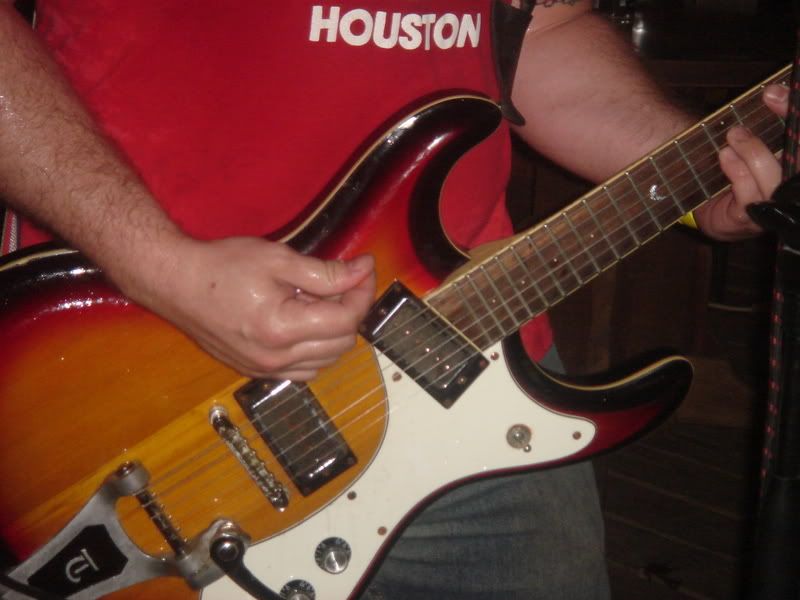 THE MATHLETES – Another set that got cut short by a trip to India, but I was glad to hear their Wire and Talking Head covers!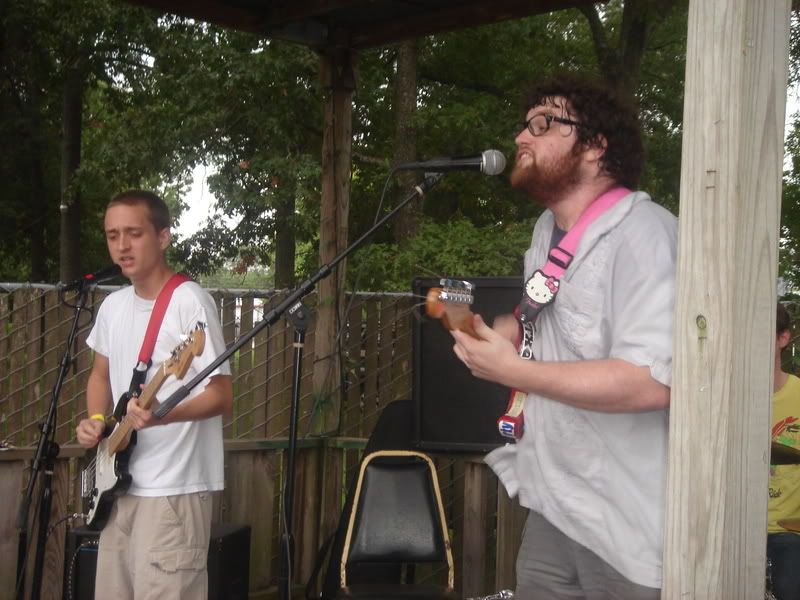 TEENAGE KICKS – I was super bummed that I missed the beginning of their set, but I edged my way up to the front behind the monitor and got the shit rocked out of me.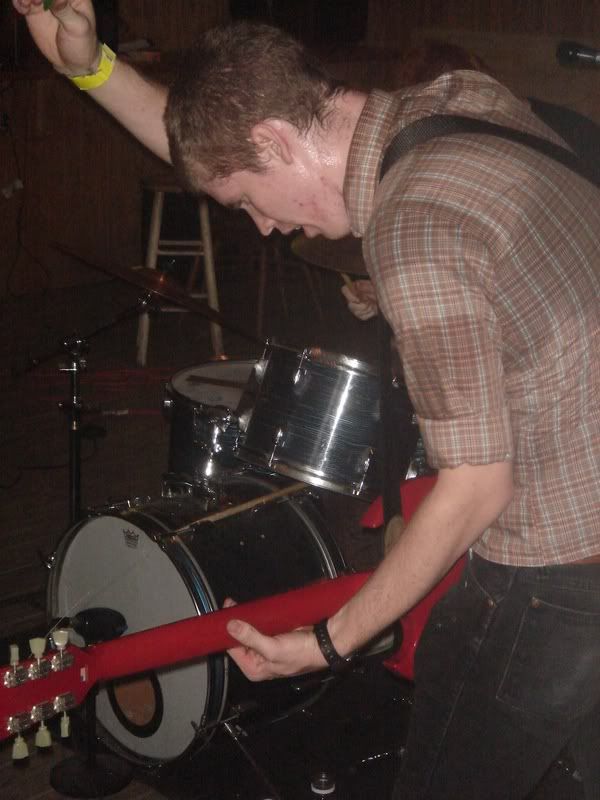 ROBERT ELLIS – Let's just go ahead and call him the most pleasant surprise of the entire weekend. I suggested that Pope Jon and Airon start a band like The Band with this guy. SHIT!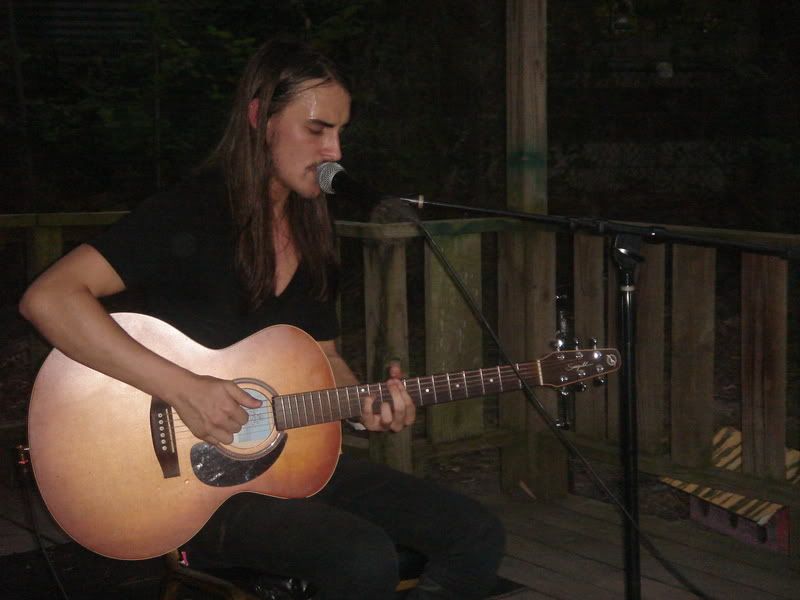 CORY DURDEN – Cory beautifully ended the weekend with his man-of-many-talents act. Multiple guitar effects, a trumpet and beer bottle slide. It was a magic moment when at the end of his set he stepped into the audience only singing, loops of sounds piling into layers as the first raindrops fall as the festival comes to an end.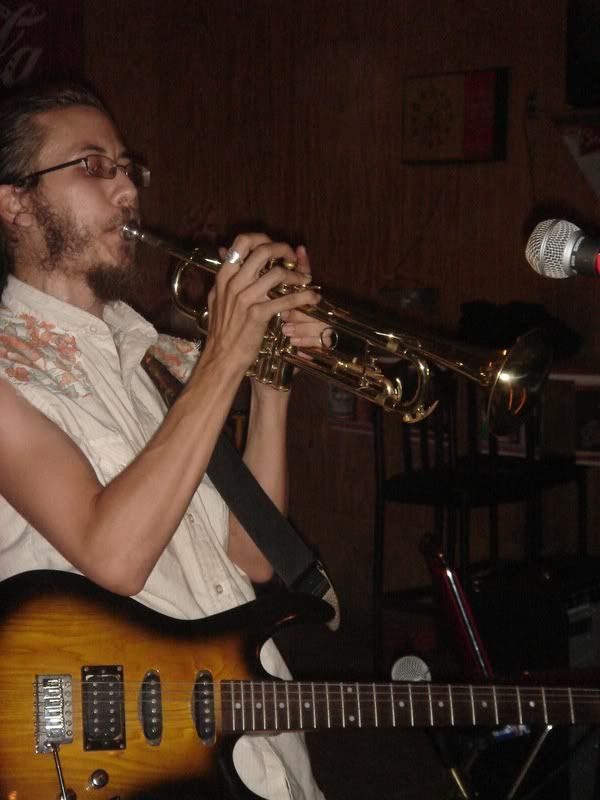 Upon the end of the festival JD thanked everyone, including the neighbors who called the cops.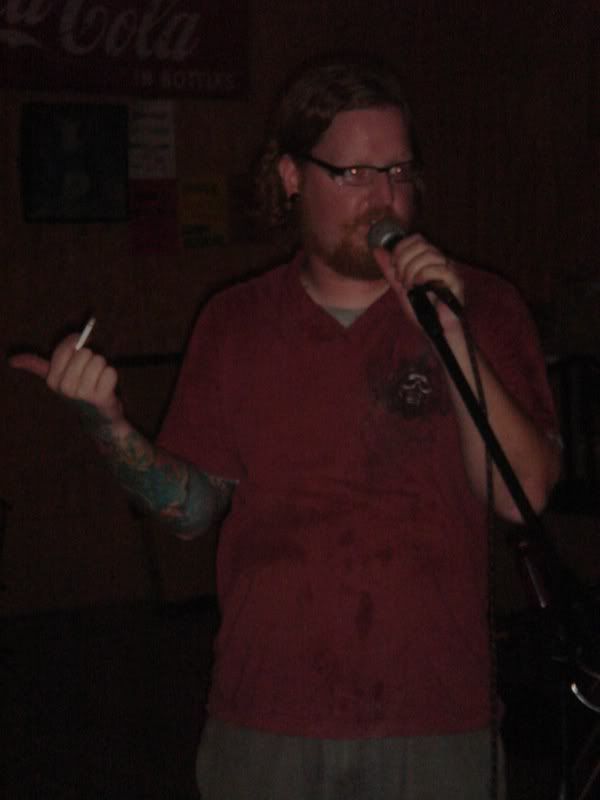 Here are some folks from day two: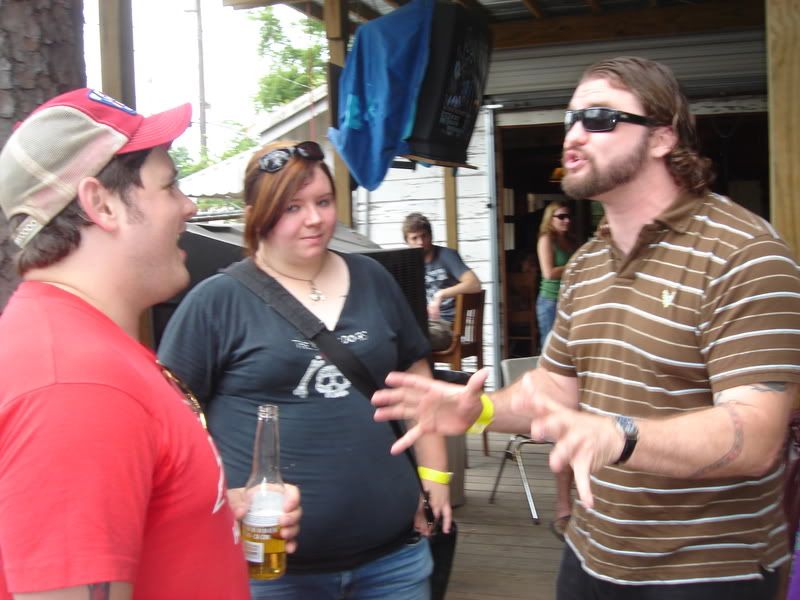 All in all this was one of the most fun music festivals you could ever hope to be a part of or attend. I can't wait to see what happens next.
Labels: "Secret Saturday festival", "secret Saturday Show", "Shady Tavern"