How I Learned to Stop Worrying and Tolerate the Funk
posted by april5k @ 7:20 AM
Man, you go out of town for two weeks and it takes you six weeks to get back on track. Seriously. So, now maybe I can get my priorities back intact and start talking at you about local music the way I should. So while everyone is reviewing Elaine Greer's release (which I'm sure is great, I've loved her since back in the Holly Hall, but I unfortunately have not heard note one of) I'm going to tell you about another release going on this weekend, Electric Attitude's
Laser Laser Laser Beams
. And after that, this weekend's line-up!
When it comes to funk, I usually the wrong person to ask. But when my dear friend Blake told me to take a listen to his bands new EP, no way in hell was I going to say know. I've shared bills with Electric Attitude on more than one occasion and have witnessed first hand the frenzy that the can work a crowd into. Blake is a dynamic frontman and I know of his love of The White Stripes and Franz Ferdinand, and if you throw in a huge heap of funky wah-wah grooves then what he's got your gonna get it put it in you (yes. that was a RHCP reference).
There is a big audience for these party jams and salacious entrities to young ladies (possibly in the audience?) for an after hours good time. Blake often approaches that Jack White yelp in his vocalization but flips things around a bit with the "Take Me Out" style riffage that blasts off into some kind of cosmic funk laser solo...which I think might be the point...to be the first party band in space. Make that the first human party band in space as I believe there's interest from Max Rebo to scoop these guys up to open for them on their intergalactic reunion tour.
My favorite track is "Pistolwhip", and maybe it's cheating because knowing Blake, I'm pretty sure I know what these lyrics are specifically about, and that's always an easy behind-the-scenes thrill. But insider knowledge aside, it's got a killer (Killers? haha) hook and it's a shoe-in for them to win the talent show at Galaxy High. All-in-all this is NOT your father's Solar Samba Rumba what with the binge drinking enabling robots and laser beams flying on the dance floor, but there's no need to fear the Sarlacc, there's only need to dance.
THURSDAY MAY 28, 2023
This Thursday's
Cactus
in-store is Austin's
The Belleville Outfit
, they're that right kind of fun and beautiful Americana that surpases the trappings of the genre and crosses over into the indie midset. It starts at
5:30pm
and is a great way to get ready for the main event tonight. It goes without saying that the important event is
Elaine Greer's CD Release
at
Mango's
. She is one of the city's favorite female singer-songwriters (and there are a lot of great ones here!) and getting ahold of a for-real release has been a long time coming. Galveston friends
Darwin's Finches
are playing at
Super Happy Fun Land
and from what I heard The Points after their show there the other night, you might want to bring the band some beer. And a show that Houston is pretty lucky to get (in light of the really cool bands skipping us all the time) is break out popstress
Lissy Trullie
appearing at
Rudyard's
with
The Virgins
and
Anya Marina
. If you're in the mood for some really nice soul music
Anthony Hamilton
is playing at
Reliant
, a big show, but dude is smooth. Over at
The Rat's Nest (2305 Lyons Ave)
you can loose your mind to
Witch Hunt
and it's not even the weekend.
FRIDAY MAY 29, 2023
There is always a shit-ton to do on a Friday night but I can only give 100% approval to some of them. At the top of my list is the
Ditchwater Records Showcase #1
at
Rudyard's
featuring the most criminally under rated band in town
Dead Roses
. Ok, sure people who know them, love them, but get the word out. with or without a drummer they rock harder than anyone. They're doing it up right with
The Wrong Ones
. But over at
The Houston Foundry (1712 Burnett)
is a huge all party mess featuring the appropriately rated
Muhammid Ali
(everyone talks about 'em as they should!) and
Death Rainbow Fuck Evil Blood
(what?),
Balls Deep, Limp Limb
and a bunch more. Doors at
7:30pm
.
Mango's
brings you great show #8,262 in the long line of great shows in it's short existance with
My Name is John Michael
and
The Riff Tiffs
. And finally, if you want to do it up proper head to the
Arena Theater
and if there are tickets left you can go see
BB King.
SATURDAY MAY 30, 2023

There's twice as much to do tonight, so you better get to decidin'. Hopefully my little look at
Electric Attitude's
EP might compel you to go out to
The Mink
for their
CD release
. They'll be joined by
Female Demand
and
Satin Hooks.
But of course, as usually can you can start the party early over at
Cactus
for the
Dexter Romweber
Duo
instore at
3:30pm
, but of course they'll be at
Rudz
later with
Detroit Cobras.
Oooooh but a wonderful show is at
Mango's!
It's
The Theater Fire, listenlisten, Sew What
(favorite!) and
Robert Ellis
(another favorite!). For reals, if you haven't had your heart melted by
Sew What
yet, then stop being a chump and get to it. Longtime local favorite
Motion Turns It On
are playing to the white shoes over at
Notsuoh
,
Cop Warmth
are at
The White Swan
and (this one's for Jake the Snake)
King's X
is over at
The Meridian
. But I gotta say
10th Grade Cutie
and
The Caprolites
at an afternoon matinee might be a perfect way to spend the pre-show hours. That's over at
SHFL
with a whole mess of other bands.
Sunday May 31, 2023
The weekend just keeps going and I know that while my friend who is visiting from out of town will be at
No Doubt
at
Cynthia Woods
, I will more likely be at
The Mink
for
The Footsies
. I caught them the other night and they definitely grew on my during the course of their set. Good stuff. They're playing with
Stallone!!!
and
Brutally Normal.
Over at the

i.am.we.house
(
819 Land Grant Dr
in Richmond) for
Joshua English,
he was in Six Going On Seven. We all liked that band. And it's a potluck. We all like food.
MONDAY JUNE 1, 2023

Hey!
Joshua Englishb
is playing again. This time at
Mango's
! So close to home!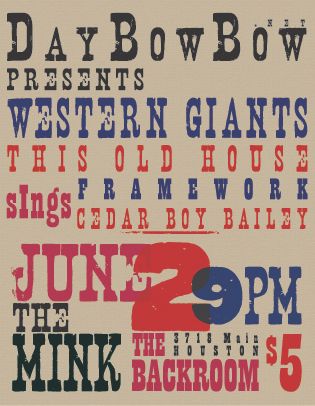 TUESDAY JUNE 2, 2023

Super nice show going on over at
The Mink.
It's got local folks I love
Cedar Boy Bailey
(Sergio from Buxton) and
sings
(now with a full band!) along with other nice people
Western Giants
(with a new EP!),
This Old House
and
Framework.


Later dudes.