Suck by Suck Weiners
posted by april5k @ 8:08 AM
Yeah, well this year I made this great big itinerary to maximize the fun that Guitars would be having this past weekend. Well, we took a wrong turn on the way (why did we take I-10? we ALWAYS take 290!) so there went our first chance to catch Handsome Furs. SUCK. So we park the car and head out to see The Uglysuit. Google maps gave me directions to WEST Cesar Chavez. Thanks. So by this time we're hungry and thirsty. Well, we don't have time to make it to see Those Darlin's, they start in 10 minutes and they're 20 minutes away from where we are. Oh, and Quinn Walker is playing at Waterloo, so we know that's impossible. And forget about DeVille and the Mohawk. All the good bands are playing there and the line is two blocks long. So Red Eyed Fly it is for Horse Feathers.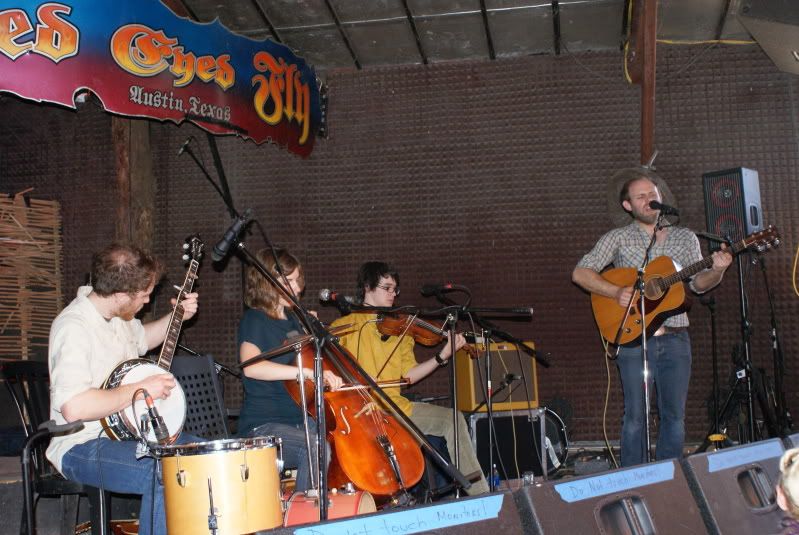 Harry Potter is in Horse Feathers. That's all I've got to say about that.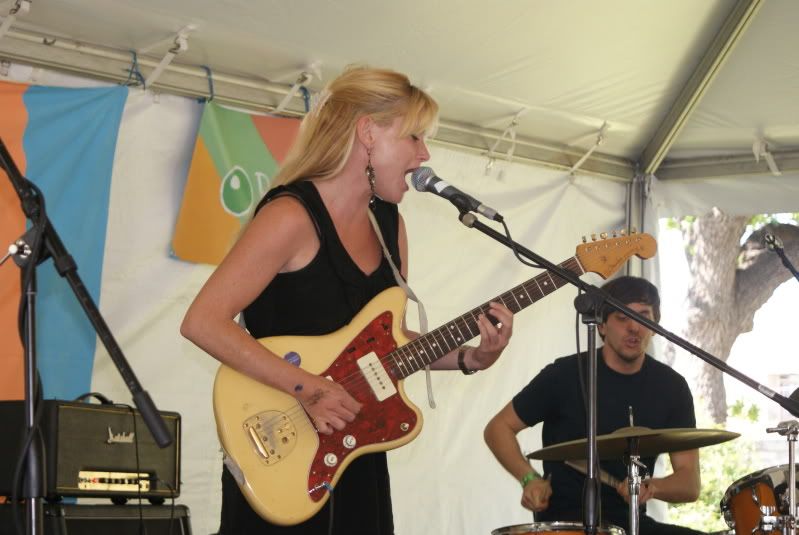 We step out a bit before they're done and optimistically head to the French Legation Museum for Wavves. I'm stoked. I love Wavves. I can't wait to see them. We wait for the previous band to pay their Death Cab fare and let the party begin. Oh but wait, apparently there was some problem and Marnie Stern says "this is take two" and she's playing. Insert frowny emoticon here. I call bullshit on Marnie Stern. Everyone talks about how she's this great guitar player but she plays the lick a couple times through and then loops it. Now, I know I should be all stoked about a female shredder but she's totally cheating, which might be ok if the songs were really kick ass.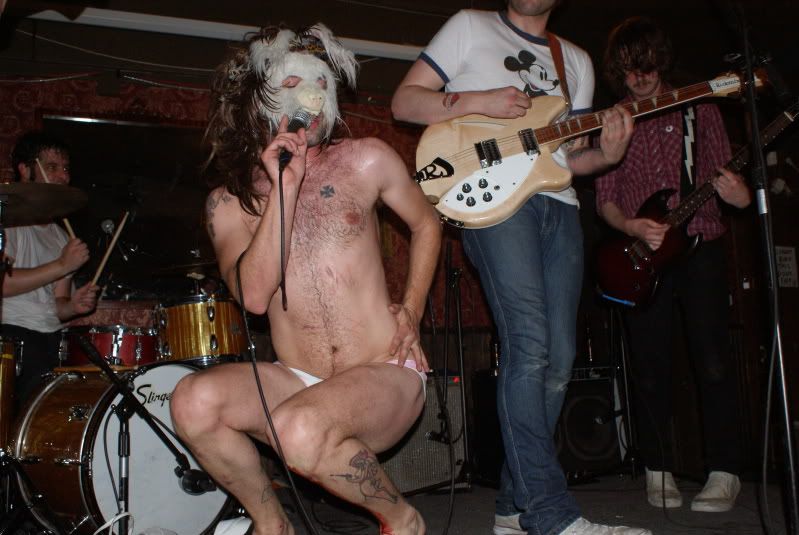 So we missed Wavves and were now 5 miles away from where Herman Dune was playing. So I've missed 5 bands that I really really wanted to see, so far. But things definitely took a turn for the better when we went to the Scoot Inn for No Bunny. No Bunny was far and away the highlight of my weekend. He was all New York Dolls (hose and heels) and Ramones (riffs) and Iggy (he picked a scab and rubbed the blood on his chest) and enter-fucking-tainment. And we could smell his balls from the audience. Pretty punk.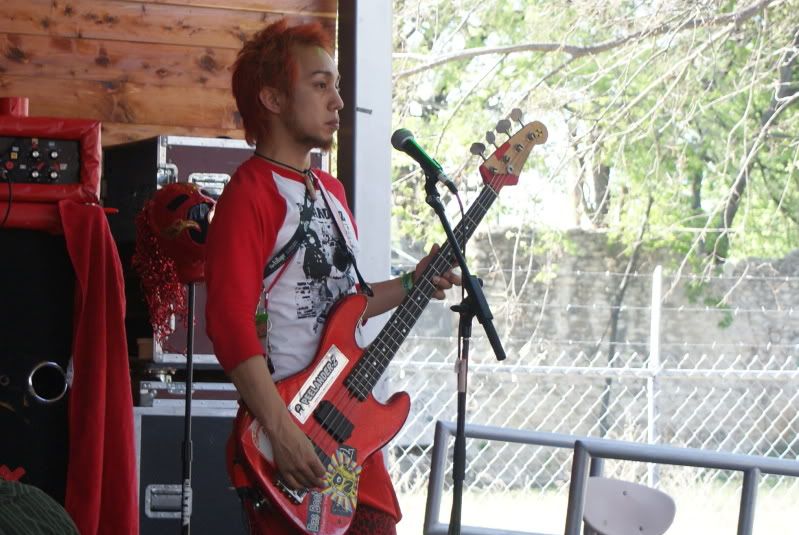 Outside at the Scoot Inn were Peelander-Z. Everyone where I work LOVES Peelander-Z and I always feel guilty that I never go see them when they come to Houston. I watched a bit of their set. Sorry. Don't get it. It's kooky. I get that. Maybe I'm too jaded. Oops. And their drummer causes androgyny boners, which I guess is ok.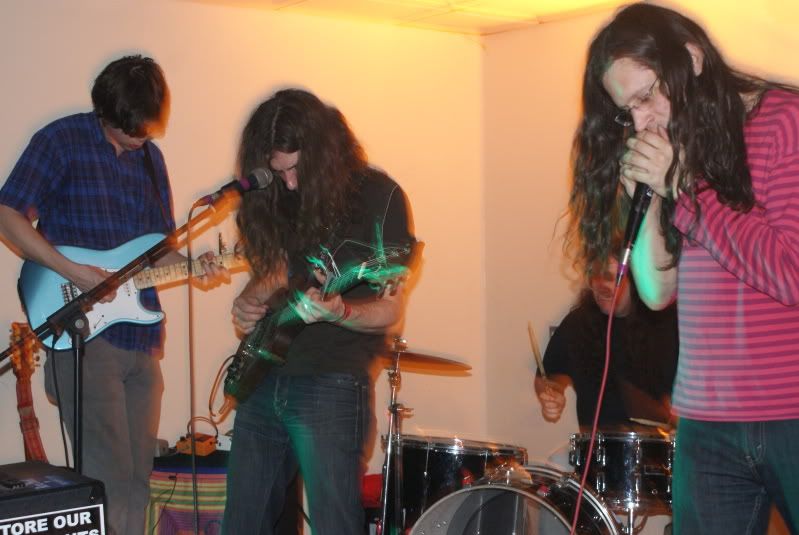 And even though we were stoked on good times we gave up on the idea of seeing Handsome Furs at Waterloo (BIG MISTAKE, PROBABLY COULD HAVE MADE IT) and headed to the Moose Lodge to definitely catch Kurt Vile. Well, we get there and Ducktails were supposed to be playing. They weren't. They weren't even on the schedule. WTF? Some fake-fur white boy group that think "pimpin' is HI-LARIOUS" hooked up their turntables and we tried to head to Trailer Space, but couldn't remember the cross street. So we head back for Kurt Vile as he played to us, Indian Jewelry and some dorm dudes in "I <3 Ska" t-shirts. Oh, and Pas/Cal was supposed to play afterwards. They weren't even on the schedule either. The highlight of our trip to the Moose Lodge? When we saw Kurt Vile's band loading in I said "Court is now in Hessian" and made people laugh really hard.
At this point we were starving and went to a virtually empty Kerbey Lane and then went to check into the hotel and meet our other two band mates. There was a lot going on Friday night, but after walking forever I was beat. We intended to take naps and find the bridge show, but we decided to rest for our show on Saturday and we would get to see the Vivian Girls with our VIP passes to Don't Mess With Texas. YAY.
So, it's Saturday morning, we do breakfast at Mother's and head over to Co-Lab where our show is going to take place. We find out that everything is running an hour and half late due to a hungover sound man. Um, ok. We go to get coffee at Spider House where I am offended by the over-PCness of Austin presented to me on the flyer for the Spider House shows. It's that famous Lester Bangs picture only they blacked out that last word on his t-shirt (which in the picture only says "igge" pretty much) and then to top it off, compltely blacked out all the words on the smaller flyers and then put that on top of the words on some of the bigger posters. Austin, you are a bunch of hippie dorks. Way to "keep it weird".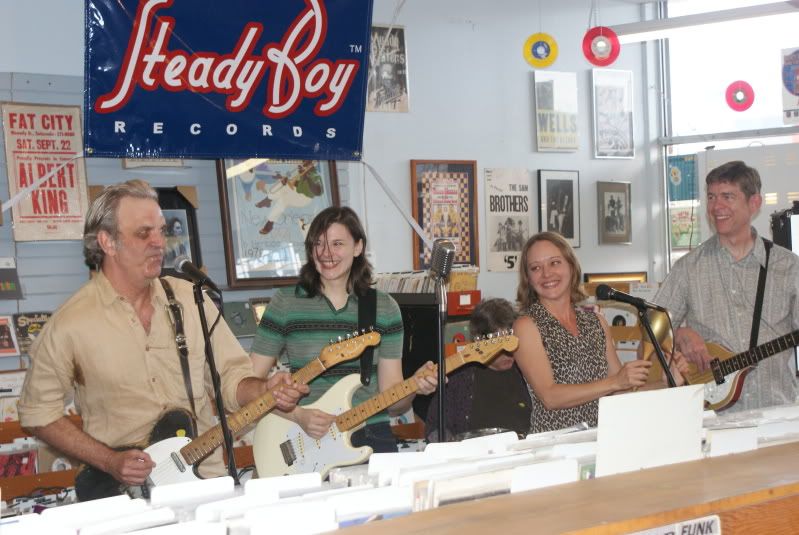 Spider House was a bust so we went across the street to Antone's where I called double bullshit on Marnie Stern. Eve and the Exiles we're playing there and were the other great band we saw over the weekend. Eve could play the hell out of the guitar and was like 30 years younger than everyone else in her band. Very nice.
Alright, so we head back to Co-Lab and are told that we've been moved to 5:15. Um, ok. Um, I really wanted to see the bands playing between 3 and 6 at Mess With Texas. And now we're missing ALL OF THEM. VIP BRACELETS BE DAMNED. Oh 5:15 came and went. Our new set time was 6:45, but it was between a band that shares management with the Killers and a big label band. We played at 8:30. And I think this is the order it went in: I twisted my ankle, fell off the stage, busted my knee and kept playing. I didn't even realize how much pain I was in until an hour later. At least we didn't stop the song. Then we watched Gliss, the band after us. And they're very lovely. Oh, and there was a mini pony named Cool Whip that I should have gotten a picture of and I'm sad now that I didn't. Oh and we were paid in bottles of vodka and iced tea.
So, now that I can't walk and we've been waiting around all day with no food we go eat. Cause some scenes, tell SXSW to suck it, having missed every cool thing that we wanted to do and head back to the hotel to get all Brtish rock band about it. Party.